Cute stationery, stickers and accessories that add a pop of positivity to your day
Yay, I'm so happy you found my happy corner of the web! Everything I create is made to make you feel more uplifted, loved and encouraged. I hope you find something here that will make you smile.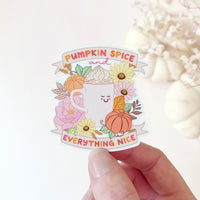 HELLO PUMPKIN SPICE SEASON!
If you're a pumpkin spice lover, then meet your new BFF for Fall!
Stick this cute little friend anywhere you want to add a touch of joy! This is printed on smooth, matte, waterproof vinyl, which means you can even stick it on your water bottle.
There are so many adorable details in this sticker, you just have to decide where to put yours so you see it all day every day.
If you're ready to say farewell to sweaty summer days, and welcome the cozy vibes of Fall, then you need to add this to your sticker collection!
PUMPKIN SPICE STICKER
BESTSELLERS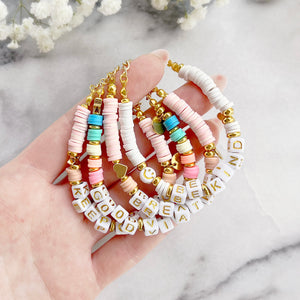 Accessories made to inspire and encourage you
BRACELETS
Brighten your desk space with cute notepads
DESK STATIONERY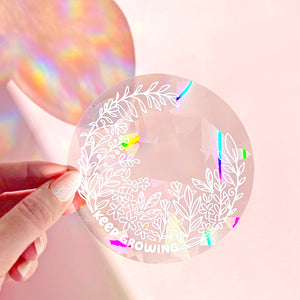 Fill your home with joyful rainbows
SUNCATCHER DECALS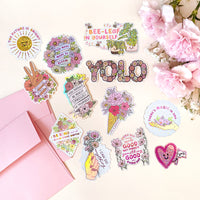 POSITIVITY STICKERS
Perfect for any stationery lover, this value bundle contains all 12 waterproof stickers! Decorate your laptop, water bottle and other belongings with pretty messages of positivity, encouragement and joy.
GET THE BUNDLE
Wear a word that's unique to YOU
This customizable bracelet features your chosen word! This is the perfect accessory to add a little happiness to your day, or give to someone as a beautiful gift.

Whether it's a name of someone special, an affirmation, or a phrase that inspires and encourages you, you'll soon be wearing a bracelet that's meaningful, symbolic and uniquely yours.

Choose a pink, white or rainbow design, all complemented with touches of gold.
CUSTOMIZE YOUR BRACELET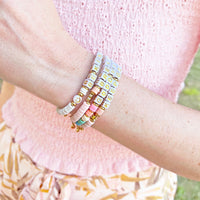 FILL YOUR HOME WITH RAINBOWS
The Cutest way to wear positivity
FOR ALL THE STICKER LOVERS
ARE YOU A RETAILER?
If you're interested in stocking The Rosy Redhead products in your store then I have a range of fun and happy stationery, stickers and accessories available for wholesale.
HEY LOVELY!
My name is Jess, I'm an illustrator and the creative owner of The Rosy Redhead.
My business is a manifestation of my cheerful nature and belief that everyone deserves to feel happy and loved. I'm passionate about helping you see the good in every day, because that's how I live my life.
I'm on a mission to spread positive vibes which is why I love making fun things that brighten your day.
I'm an Australian currently living in the USA, have a background in graphic design, love drinking coffee and I'm obsessed with florals; you'll see that across a lot of my work.
I hope you find something in my shop that makes you smile!
SHOP HAPPY THINGS HERE
WOULD YOU LIKE ME TO CREATE SOMETHING FOR YOU?
Yes, I do custom illustrations! If you're looking for a unique and personalised illustration, I can help bring your vision to life. I've worked with brands to create stationery items, logos and exclusive artwork. I've also worked with individuals who would like a tattoo design or a special piece of artwork for their home. Below is a gallery of some of the custom projects I've worked on previously.
HEAR FROM MY HAPPY CLIENTS
Let me start off by saying...I AM OBSESSED. You are truly a talented lady! These are beyond what I expected, even in just black and white, and I'm so happy to be working together.

Pump & Crunch
There's no one else I could've imagined that would've executed my logo illustration as amazingly as you did. I really appreciate you.

Mama's Joy
You went above and beyond, I'm so so happy I want to dance!

Sweet Mailers